Our Medical Director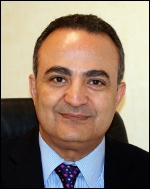 Mr Ahmed B Shair
Consultant in Orthopaedics and Spinal Surgery
Qualifications
MB BS, FRCS, MS Orth, MCh Orth, FRCS Orth
Honours
Visiting Professor of Orthopaedic Surgery, University of Utah, USA. Advisor to the Home Office. Advisor to the Joint Consultative Committee on Clinical Complaints.
GMC Number 3379615
Formerly: Clinical teacher at the Faculty of Medicine, Cambridge University and Consultant Orthopaedic Surgeon at Peterborough Hospitals NHS Trust.
Fellow: British Orthopaedic Association, British Association of Spinal Surgeons; Royal College of Surgeons of Edinburgh, International Society of Orthopaedic Surgeons.
Scholarships: Wichernhaus Orthopaedic Clinic, Numberg Germany with Professor H Wagner, Sunnybrook Medical Centre, Toronto, Canada with Professor M Tiles.
Author: Osteotomy of the Proximal Part of the Femur. Congenital Disclocation of the Hip. Supracondylar Fractures of the Humerus. Total Hip Replacement. Arthroscopy. Surgical treatment of Back Pain and Cartilage Grafting of the Knee.